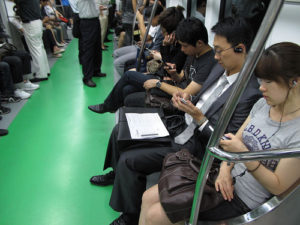 Chris in Cape Town (well, about 20 minutes from there) commented on my "We're sold on you" post and asked what I thought of the T Mobile "Royal Wedding" commercial.  So this one is for you Chris.
The commercial (if you want to refresh your memory go to http://www.youtube.com/watch?v=Kav0FEhtLug) features a spoof of the Royal Wedding, with Wills, Kate, Harry and other assorted lookalikes dancing down the aisle to East 17's "House of love".
What did I think?  Well, it made me laugh, so that's good.  And at the time of writing it had 21,056,858 views – in terms of "going viral", it did the trick. So what's not to like?
Other people's ideas are for ripping off and sharing
Firstly, it seems the idea was lifted from another YouTube sensation, the JK Wedding Dance spot http://www.youtube.com/watch?v=4-94JhLEiN0 (which had over 66 million views at time of writing).  So, the T Mobile slot is pure plagiarism.  But hey, Life's for sharing, right?
Nothing to say?  No problem!
Secondly, (and I think this is what prompted Chris to ask the question) it is another example of a phenomenon I covered in my earlier post, "We're sold on you.  How big brands get you to buy yourself" – advertising where the product has no tangible point of difference and nothing intrinsically meaningful to say for itself (are the T Mobile minutes longer than the Orange minutes? I don't think so).
In the earlier post I pointed out that when ad agencies find themselves in this bind they switch the focus away from the product and onto the target audience.  Specifically they attempt to exploit the viewer's self-concerns and position the product as some kind of antidote to a particular anxiety they've identified amongst existing and potential consumers.   The result is a commercial where the product is all but invisible.  In the T Mobile slot we catch an occasional glimpse of a guest capturing the action on their mobile phone, and we're supposed to infer the whole video itself was shot in this way (I assume??!).  Apart from that the product is nowhere to be seen.
Begging for attention
We'll come back to those anxieties in a moment, but the main point of this commercial is simply to provide entertainment.  Seth Godin, in his book "Permission marketing" highlights the fact that "Marketers must make us pay attention for the ads to work", whilst also explaining that this is becoming increasingly difficult in these times of "infoglut".  He sees advertisers responding to this attention-deficit challenge by making their "advertisements ever more controversial and entertaining".  He then points out that the need to focus on entertainment "gives the marketer far less time to actually market".
So where is the actual "marketing" in this T Mobile slot?  Hard to spot, and a bit tenuous, but the general idea is "hey, if this ever did happen, and Wills, Kate and the royals did break into a dance routine, and you were there, it would be great if you could video it on your mobile, then send it to all your mates".  Hence the T Mobile "Life's for sharing" strapline (here hilariously changed to "One's life is for sharing").
Life with my mobile – I'm loving it
However, if you look at the campaign in its entirety, there's a bit more going on here.  On one level it's all just harmless entertainment, but on another there's something slightly unpleasant and creepy at work here (but maybe it's just me?)
The campaign has been rolled out with a series of different commercials featuring apparently spontaneous (they're not!) events featuring a carefully orchestrated flash mob of singers and dancers at
Liverpool Street Station http://www.youtube.com/watch?v=VQ3d3KigPQM,
Trafalgar Square http://www.youtube.com/watch?v=orukqxeWmM0
Heathrow Airport http://www.youtube.com/watch?v=NB3NPNM4xgo
These slots express, in a very loose way, some of the emotional benefits of having a mobile phone.  They create and feature events where people experience the joy that comes from connecting with others and the pleasure of being part of something that is bigger than themselves.  In other words they are brim-full of feel-good factors, brought to you courtesy by those lovely, thoughtful, caring people at T Mobile whose sole object in life is to brighten up our otherwise rather routine and dull lives.  It seems churlish for me to criticise them for spreading the love.  But here goes.
We feel your pain
These commercials are, on one level, harmless fun.  But on another I find them deeply disturbing.  T Mobile is run by bean counters who employ armies of assorted marketing experts to help them sell airtime packages in a ruthlessly competitive market.  Spreading the love is just a cynical ploy to achieve a series of closely monitored commercial goals.  And adding to the sum of human happiness is not one of them – these guys are obsessed with return on investment.
So what are they really up to here?
Here's a clue.  I was once briefed on a project by the Vice President of a software company in Palo Alto, Silicon Valley.  He said "Selling is easy.  Just find the pain.  Locate the point where they are hurting the most, then press on it as hard as you can".  Despite T mobile's apparently benign intent I think this advice gives a clue to what lurks behind these commercials – they're not pressing, but giving a gentle massage with anaesthetic gel.
Billy no mates sad loser?  Then T Mobile is for you
What kind of pain are we talking about here?  Well, have you ever felt lonely?  Experienced a sense of alienation?  Worried that society is becoming so fragmented and broken that you are falling through the cracks?  Wondered how you can ever recapture that reassuring feeling of belonging, connecting and engaging?  And how's your sense of self-worth these days – are you getting close to running on empty?  Do you ever get that nagging thought that between work, commuting, paying the bills and just getting by, you don't have a life?  That you never experience anything remotely out of the ordinary, anything the least bit significant, anything worth sharing with others?
That's what "Life's for sharing" is really about.  It's saying we feel your sense of emptiness, loneliness and worthlessness.  And we'll fill those gaps.  Not only will we give you the means of sharing (airtime packages) we'll even give you some conveniently pre-packaged happenings you can feel part of – OK, you weren't actually at Liverpool Street, Trafalgar Square, Heathrow Airport or Westminster Abbey (no chance on that one – get real!), but you can at least share in the fun, and pass it on, with your mobile.
Take it a stage further and what they are saying is "get a life – get T Mobile".  Not a particularly smart strategy, to my mind.  Because some people are convinced that they already have a life – and that T mobile is therefore not for them.  But maybe there aren't many of us left?
Picture credits (thank you!).  People on train http://www.flickr.com/people/jodyodea/
I am loved http://www.flickr.com/people/wheretherainbowends_/ Louise Law