"The house of fiction", as Henry James once remarked, has "not one window, but a million," meaning that every writer has a different view on how to do it, and every reader, looking in, sees only one room within the whole.  It's the same with copywriting, and merely saying "I am a copywriter" is an inadequate way of answering those people who ask me what I do – their view of what is meant by this term, and my view, are almost certainly different.  This leaves me frustrated and them none the wiser.  So I figured it would be worth writing a few posts about actual jobs I'm working on – hopefully this will mean we're both waving at each other through the same window!
On Monday the 19th of March I met up with David Eck, Executive Director of Sales & Marketing for Halcyon Collections to discuss how I could help them best express their unique offering to upmarket clients in search of bespoke holiday experiences.
We meet for lunch in the Boot & Flogger wine bar in Southwark, hidden in a backstreet next to Borough Market.  Although it sounds like some kind of dubious club for ex-public school boys the name actually refers to a hand held corking device – the leather boot holds the bottle whilst the wooden flogger, a mallet-like contraption, 'flogs' in the cork.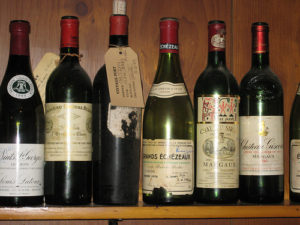 A discreet sign reading 'JHn. Davy Free Vintner' is the only clue that this is a drinking establishment.  It refers to the fact that the bar was originally established under a 'free vintner's licence', which allowed Mr Davey to sell wine, but only wine, as a sole trader within the City of London and along the routes to the ports from which wine is imported – a special dispensation confirmed by James I in 1611 and which dates from a charter of 1567 granted by Queen Elizabeth I.
The interior is relatively modern – by which I mean Dickensian, rather than Elizabethan.   Dark wooden floors, walls and bar with a motley collection of ancient bottles mouldering under generations of dust, faded prints of London Bridge and bull baiting contests, yellowed cards promoting Sandeman's Vintage Port and a recruitment poster encouraging men to sign up for the Light Brigade…it's straight out of Bleak House or the Old Curiosity Shop.  The slightly cadaverous proprietor, dressed in black, asks "Would sir like to start the proceedings with a snifter of sherry, or is it a little early in the day?"  I make an excuse about having an important meeting that evening (I'm going to reception at the Dorchester and don't want to arrive drowsy and smelling like an unwashed wine glass from the night before).  He makes a tut tutting sound before replying "How unfortunate Sir" in a voice heavily laden with disapproval.
I settle into the brown leather seat in the deepest darkest corner and the waitress ask if I'd like a "nosepiper".  I assume this is some other shot of strong liquor, like a hogshead of Rioja or a yard of ale, and politely ask "what's that?"  She stares at me and, after a perplexed pause, replies, in her heavy cockney accent "Nosepiper.  I can getcha the Telegraph or the Times while yer waitin' for yer mate to arrive."
I worked for David when he was Executive Vice President of Marketing for Red Carnation Hotels, but he's been in Khartoum for a while so we have some catching up to do.  Then, over a gammon, egg and chips (we pass on the black pudding), we get down to discussing work.
Halcyon Collections caters for those who want a holiday that's a little bit out of the ordinary – perhaps £20,000 to £40,000 out of the ordinary.  As in a few days of canoeing and horseback safari amidst the hippos, crocodiles and elephants in the Okavango Delta.  Then a drive up the spectacular Garden Route with some of South Africa's top dive sites thrown in for good measure.  Followed by weekend at a private wilderness reserve and wellness retreat in the Cederberg Mountains, exploring the ancient rock art sites of the bushmen and fly fishing for the elusive Clanwillam Yellow Fish.  Two nights in Cape Town, with a visit to a selection of the finest wineries in search of the perfect Pinot Noir.  Oh, and stopping off via a hand-picked boutique hotel in the Maldives.  As you do.
David and his co-directors have a wealth of experience in creating this kind of extravagantly luxurious adventure, but the company itself is very new – so the website is in its early stages and needs a fair bit of writing.  Which is where I come in.
The first job is to write about 150 words which sum up the ethos of the company and expresses their unique offering in a way that captures the imagination and promises an experience that's totally out of this world.  I've got to strike a chord with a very particular type of reader and paint a picture that will not only whet their appetite but fill them with confidence.  It must have a little gravitas, and respect, but without being in any way heavy or clumsy.  The language may be slightly corporate but the tone has to be warm and personal, to reassure the potential client that "we know exactly how you feel and what you are looking for".
This is what I came up with.
"Time is precious and there will be occasions, whether it's your honeymoon, a break with family, a few weeks of adventure or just a much needed escape, when nothing must be left to chance.
We specialise in conjuring up these magical moments – halcyon days that are the most balmy, idyllic and satisfying days imaginable.  
We do this by building close and lasting relationships with a very select group of clients then using our knowledge and imagination to create truly bespoke experiences that linger in the memory for a lifetime.  Faultless personal service, individually tailored itineraries, splendidly luxurious accommodation and utter peace of mind – these are the hallmarks of Halcyon." 
So, that's one particular job, and one specific type of writing, I especially enjoy.  It's not business to business, or business to consumer, but person to person, and possibly heart to heart.