So, you think you have a pretty good product or service to offer?  Bully for you!  But now the bad news – this is almost certainly not enough to ensure success.
These are tough times. Consumers expect your product or service to be good – that's a given.  If you want them to actually notice it, engage with it, buy it and recommend it to their friends, it is no longer enough to allow the quality of the product to speak for itself.  You've got to do more than that, and be a lot smarter.
Nostalgia isn't what it used to be
Let's take beer as an example.  It's not hard to sell beer – apart from the fact that the market is flooded (saturated, inundated, sozzled?) with competing brands.
In September 2012 the number of breweries in the UK topped 1,000 – the highest figure for more than 70 years, according to the Campaign for Real Ale. The organisation said a record 158 new breweries had opened in the past year, the highest number recorded in the group's annual Good Beer Guide.  Add in all the other beers that CAMRA doesn't consider "good beer" (kegs, lagers, cans…) or which are imported from abroad, and you soon realise that getting your pint to stand out is a very tall order.
So when I was asked by the guys at DB Communication by Design to help them create a distinctive brand personality and positioning for Wadworth's 6X, as well as an ad campaign that would grab attention despite a small budget, I knew we had a battle on our hands.
The obvious strategy was to use the brand's heritage – Wadworth had been brewing in Devizes since 1875 and that particular beer was first introduced in 1921.  It was also obvious that we could not ignore the fact that 6X is well regarded by those who know their real ales.  Plus we had to use the existing strapline "A thoroughly decent pint".
However, we also realised that the heritage just provided a solid foundation – we had to build something more exciting and distinctive on top.  Otherwise it was just another beer with a half decent back story (and there are hundreds of those to choose from).
The need for something more compelling became even more apparent when we looked at the target audience – 30-45 year old blokes who were just beginning to discover real ale, and looking for a brand to adopt and be seen drinking.  Nostalgia alone would not be enough to capture their attention and secure their loyalty.
Liquid inspiration?
I'd love to tell you we drank a few pints of 6X and inspiration came to us.  But the truth is we stuck to coffee.  The guys at DB were already well down a creative route – and it was good.  They just needed another head (two better than one, three better still?) to get it tight.
Their idea (remember when advertising was built around ideas?  They were showing their age!) fitted with something John Hegarty underlined in his recent book "Hegarty on advertising".  That the major concern when choosing a product is "What 'it' says about me.  'It' becomes a fashion statement".  He goes on to stress that "the future is going to be one where brands look increasingly at how the two worlds of entertainment and fashion are merging.  Brands need to become part of those worlds – where fashion sits alongside the need to be entertained."
The stumbling block, however was the line "A thoroughly decent pint".  This made the beer sound "worthy", rather average and thoroughly boring –  as a communication it offered precious little entertainment!
To get round this the brewery had been toying with the idea of projecting the virtues of the pint onto the blokes who drank it – "a thoroughly decent pint for thoroughly decent guys".  Although this might make consumers think "this is a pint that says good things about me" the strategy was just too blatant.  Even worse, it led down the route of "men behaving thoroughly nicely" – and how boring is that as a creative execution?!  Also, who would want to be seen dead drinking a pint that marks you out to be goody two shoes?
Eureka! (get the beers in)
The first bit of coming up with a creative solution (in my experience) is to go right back to the beginning and define the problem.  The problem was that we were trying to tell a story, but one of the key components of a great story was missing (I knew that degree in English Literature would come in handy one day!)
If we just told the back story, the history, or we described well behave blokes, the tale had no dramatic tension, no struggle between opposing forces, and no victory.  What would Beowulf be without Grendel, Harry Potter without Valdermort, Frodo without Sauron, or Luke Skywalker without Darth Vader?
We had to find an adversary, something against which to pit our pint.  The product has "depth", in the way of a heritage, quality and taste.  So we decided to pitch it against everything that was "shallow".
We started by comparing it to "shallow" drinks, those are briefly carried to popularity on the back of a passing fad, those that succeed thanks to a massive marketing push, and those that you soon grow out of.
We also changed the line slightly, to "Time for the thoroughly decent pint".  This positioned 6X as the beer you turn to when you see through the inherent shallowness of lager, cider or frivolous cocktails, and want something more substantial, something whose innate qualities have stood the test of time.
These ads ran in the national press in the early part of 2012.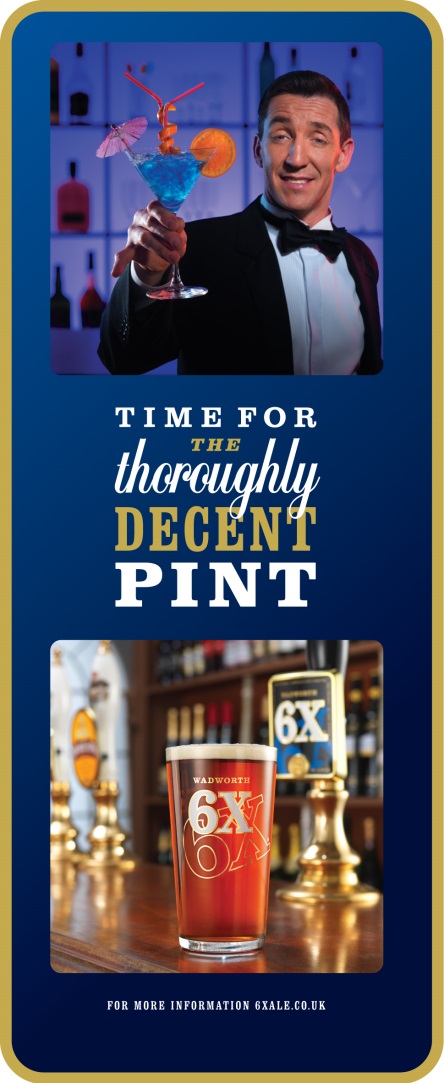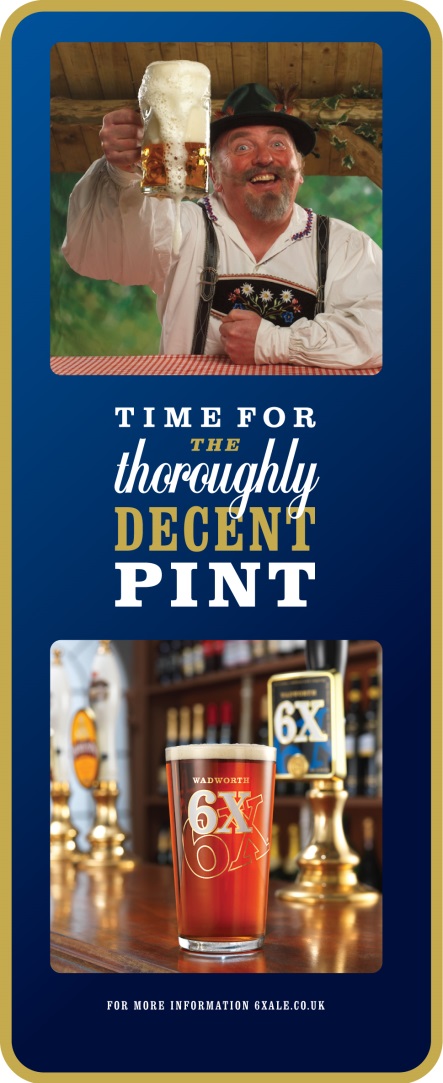 We also produced beer mats and posters featuring this campaign.  The new website they created and I wrote also continues this theme in the blog.
Rolling it out
Now, in the autumn of 2012, we've extended the campaign beyond drinks to other forms of shallowness in the world today – the shallowness of celebrity culture and of our footballing prima donnas, as well as the spectacle of politicians dancing around their handbags while the economies of Europe disappear down the toilet.
We've taken the heritage and given it some contemporary relevance.  There's an element of entertainment there, and the product becomes the hero in the fight against many of our modern ills.  Plus we've also placed it in the arena of modern popular culture by taking an anti-fashion stance.
That's a lot of work (and you thought I just wrote body copy!).  Why did we do all this?  Because that's what it takes, in today's frantically overcrowded marketplace, to get consumers to notice your brand, engage with it and adopt it as part of their persona.