I do a lot of work for upmarket companies in the travel and leisure markets.  This involves capturing the unique spirit of a particular destination and evoking an experience in a way that readers will find irresistibly inviting.
Halcyon Collections have put their new Passport online – I'd checked the proofs before it went to print, but I've just had my first sight of the completed job (albeit in electronic format).
Who are Halcyon?
David Eck was Vice President of Marketing at Red Carnation Hotels and I worked with him for about four years, writing their web copy, blogs, e-shots, press releases, brochures and all the other things that come under the heading of marketing comms.
When he set up Halcyon Collections with Ali a couple of years ago I was delighted to be invited to help on the writing side of things.
The overall challenge
Between them David and Ali have huge experience of the holidays and travel business.  With Halcyon they offer bespoke itineraries for those who want to enjoy the most inspiring adventures and extraordinary experiences that the world has to offer.
NB, to read text up big click on image
What they don't have, however, is unlimited resources and cash.  They put in what you could term "sweat equity" – huge amounts of their own time and effort to get the business up and running.  A big part of that has involved creating marketing communications that reflect the quality of the offering.  That's incredibly tough when it's just two of you, you have to do everything yourself, and you don't have a backer with deep pockets.
My help has been limited to assisting them produce the Halcyon Passport – a taster of what kind of properties they partner with and the type of bespoke and unique itineraries they can create.  The first edition was 86 pages and covered Africa, the Indian Ocean and subcontinent, the United Arab Emirates and Europe.  The second edition is 200 pages and covers most of the world.
Five people who know what they are doing
This was a team effort.  David and Ali, using their existing relationships, and forging new ones, assembled an impressive collection of hotels and destinations that wanted to partner with them and be included.  Then they had to collect the raw content (information and pictures) from all those organisations (a hugely time-consuming administrative challenge).  The design work (the leather cover with logo imprinted into the surface, and the layout of all the pages) and print management was handled by my good friends at db communication by design (again, very challenging, requiring terrific attention to detail and a great "eye").
NB, to read text up big click on image
I think you'll agree that the results look amazing.  These are publications of the highest quality and stand alongside some of the best travel & leisure literature being produced today by market leading companies with large in-house teams, famous design and branding consultancies and mega budgets.  It just shows what can be achieved when you have five really experienced people who know exactly what they are doing.
My bit
I did the writing.  But let me explain what that involved (so I take credit for what I did, but not for the stuff I didn't).
NB, to read text up big click on image
I quite often get briefed by people who say something along the lines of "I'm pretty good at writing, but I just don't have the time on this project" (this was NOT the case here – David is good at writing and he did do some of it on the second edition, as I'll explain).  Good writing is easy to read, and flows effortlessly.  Those who glibly assume they can do it often under estimate just how hard it is to achieve this – there's more going on than they realise.
120 words x 200, and different every time
First of all there's the fact that each partner sent very different content, ranging from just a few words that said very little, up to 1,000 word essays.  I had to turn each of these into pages of about 120 words, in a style that was consistent.
NB, to read text up big click on image
This generally involved a complete re-write, using their website as the source (because the text we received was often supplied by those for whom English was a second language).  You have to capture what's unique about the experience on offer whilst giving some specific information about the location, accommodation, facilities, activities, wining and dining.
NB, to read text up big click on image
It has to be evocative and fresh, without lapsing into clichés or painting the prose too purple.  In the first edition I did all the destinations but for the second edition, with 200 pages, David did a lot too.
NB, to read text up big click on image
I can resist anything except temptation
Then there are the introductory pages at the start of the Passport.  These are tricky in that the product will be different for everyone – each itinerary is individually designed, and much of the value is in the personal service.  The challenge is to draw the reader in and appeal directly to their emotions.  You have to pull hard on the heart strings, but without being clumsy.  The touch has to be light, but actually quite forceful – otherwise people will just get a nice warm feeling but not actually do anything!
NB, to read text up big click on image
Smoothly does it
Then you have to move on, gracefully and start talking about the specific features of the service.  It's a gear change in the writing, but without there being an awkward transition.  If you are promising elegance, comfort and sophistication then the writing must proceed gracefully and flow effortlessly.
NB, to read text up big click on image
In the second edition I also had to paint mini-portraits of Ali and David.  The art here is to quickly give their background in such a way that their unique personalities come across in a winning way – personal service is not very appealing unless you get a great feeling about the person who will be offering it!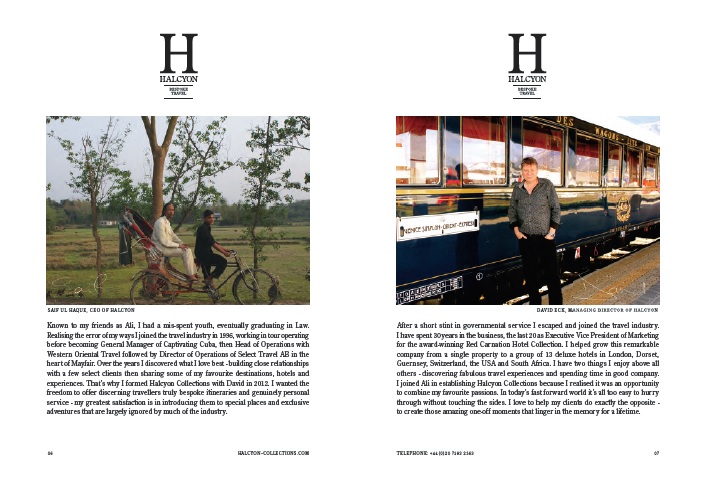 NB, to read text up big click on image
Continental drift – in 160 words
Then there are the pages which introduce each continent.  You try summing up the unique appeal of India, the cultures, heritage, religions, peoples, landscapes, festivals, architecture, tastes and colours in just 160 words.  And making it vivid, inviting and compelling, without appearing to try too hard.  Oh, and don't forget Sri Lanka and all those islands across the Indian Ocean.
NB, to read text up big click on image
Good, done that?  Now do the same for the Americas, both north and south, in another 160 words, lightly skipping from the Canadian Rockies to the Amazon Rainforest and the islands of the Caribbean to the ancient ruins of the Aztecs.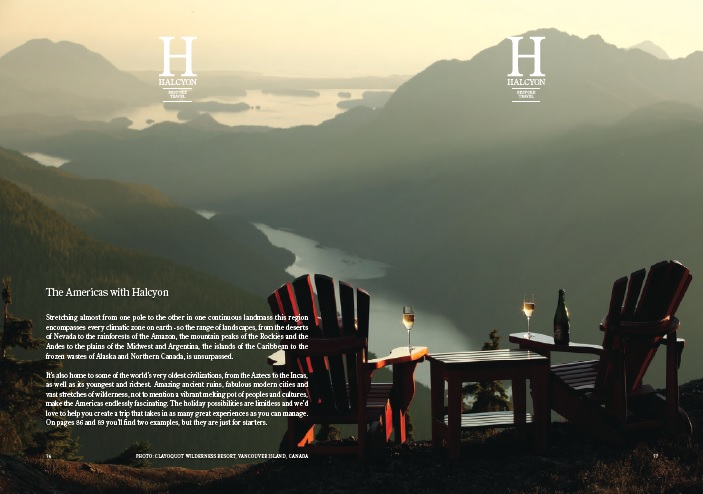 NB, to read text up big click on image
Next, the Far East.
NB, to read text up big click on image
And then Australia, New Zealand, Papua New Guinea and the pacific islands like Fiji.
NB, to read text up big click on image
Then Europe and the UK – an area with more than its fair share of variety and history.  Finally, can you wrap up Africa, from cosmopolitan Cape Town to the archaeological sites of the Sudan and the remoteness of the Okavango to the teeming bazaars of Morocco?
Days of wonder, conjured up in words
Finally there are the itineraries.  These are tough, because they have to cram in the maximum detail in the fewest number of words.  There's a price quoted on the page so you have to get in as much as you can, without it just becoming a boring list.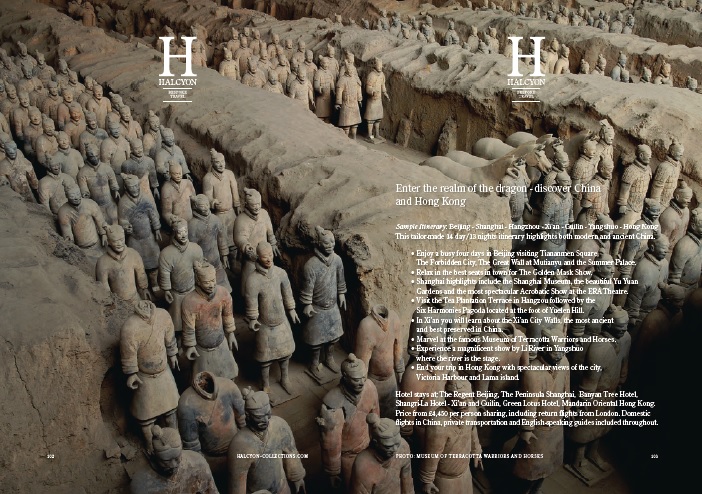 NB, to read text up big click on image
So, just one example of how I approach the challenge of selling luxurious travel experiences.  If you'd like to see the complete job in flipbook form, click here.  To read words more clearly just click on images.