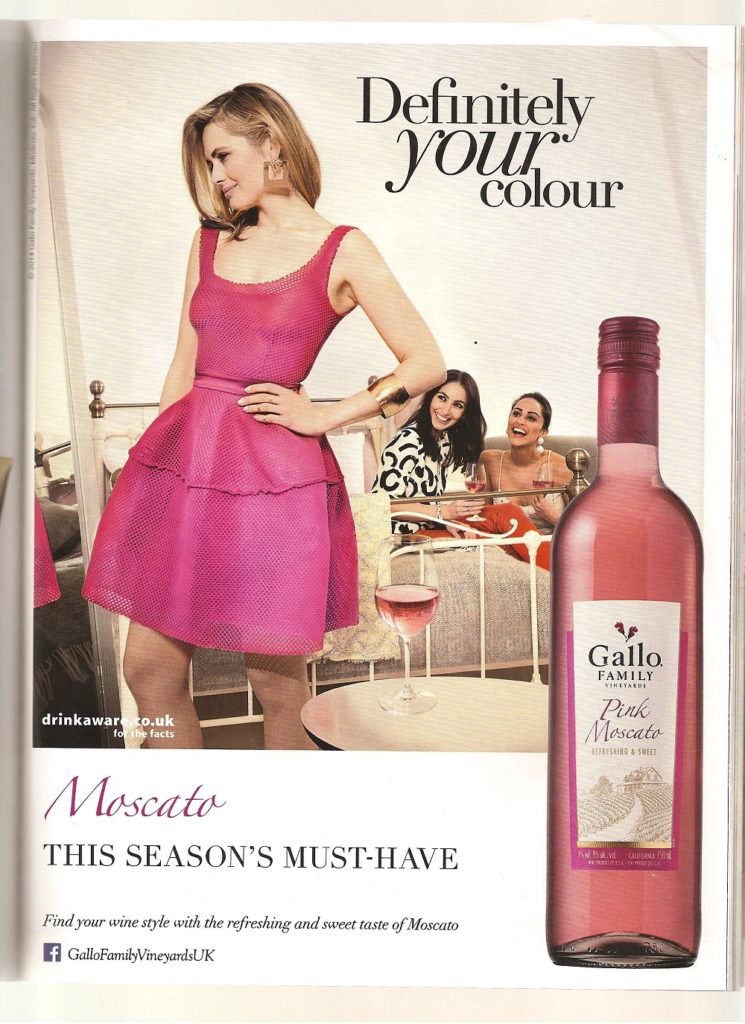 You don't buy wine for how it tastes, you buy it for how it looks.  Discuss.
On the face of it this is a ridiculous statement.  Wine is ALL about taste, surely?
Errr, sorry darling, that attitude is just so passé.  Let's go somewhere in private where we can talk – without anybody noticing (I'm not sure I want to be seen with someone who is, you know, so out of the loop…).
Vintage wine is so last year
Some people, for sure, will wax lyrical over the "fine, floral, honeysuckle fruit on the palate with hazelnut overtones", or go all-of-a-flutter for the "lean, cherry-like fruit flavours on the palate, with a hint of wood and a touch of bitter almonds".
But you know what?  You are actually just being a boring old fart.
The in-crowd, the people who are where-it's-at, just don't give a toss.  Hence these ads for Gallo Moscato.
The small print tells us the taste is refreshing and sweet, but that's almost an aside.  Flavour takes second place to fashion – it's all about "finding your wine style".  This is a wine to be seen with when you are sharing girlie good times – it goes with your dress, complements your look, and shows you are well and truly on-trend.
Forget all that stuff about vintages, and letting the stuff mature for a fuller and more characterful taste – it must be "this season's"!  As Gallo's marketing people tell us, it's targeted at "fashion-conscious 25- to 34-year-old women" – and I'd say they've hit it bang on.
New twist to an old theme
This approach isn't new.  Drinks marketers have always been hyper aware of the fact that drinkers are incredibly self-conscious – what a particular brand says about you has always played a huge part when it comes consumer behaviour.
This is the first time, however, that I've seen a drinks brand so blatantly playing the fashion card (as opposed to a more general appeal to people's self-image).  And it's interesting to see a wine doing it, rather than a spirits, beer, lager or cider brand.
The bigger picture
A while ago I read 'Hegarty on Advertising'.  Interestingly, he has now taken up wine making (doing a bit of a Peter Mayle, the adman who wrote "A Year in Provence").
I came across this paragraph:  "The issue with brands today is not about whether 'it', the product, works – I expect 'it' to work – but what 'it' says about me.  'It' becomes a fashion statement."
The Gallo ads make perfect sense when viewed in this context.
He also makes the point that while advertisers are "increasingly in the fashion business, they're also in the entertainment industry."  As examples of this convergence and mash-up of different industries he cites David Beckham, a footballer who models for Armani (among others).  Is soccer a sport, or fashion, or entertainment?  It's all of them (just look at the haircuts!).
He goes on to write "I could say the future is about 'fashiontainment'.  I know it's a dreadful word, but I'm using it only to capture what's going on in our world."  He argues that advertising always had to entertain, but that there's more pressure to do so these days – if you are not fun then people won't engage with you, share etc.
The Gallo ads make sense in this context too.   They celebrate having fun and are brimming with the feel-good factor.  And they're playful, irreverent and frivolous – a huge departure from the stuffiness that has surrounded the world of wine for generations.  I imagine that a few die-hard French wine makers will be choking on their Bordeaux, Burgundy and Beaujolais at such blatant frivolity.
An echo of the same idea, idea, idea…
In the same Tesco magazine where I found the Gallo ad there was this one for Echo Falls.
It's a bit of a bus accident.  The "Life's great when things just happen" is a hangover (sorry, I know, a pun) from their sponsorship of "Come dine with me".  And what are those colourful circles?  And I have to use the discover app to find out more, and visit facebook…what a faff!  But in the interests of research I persevere.
What I discover is that Echo Falls, the UK's third largest wine brand, has signed British fashion designer Holly Fulton to develop a limited edition wine range that launched in July 2014.  This "comprises three girly label designs for white, red and rosé wine, with each design drawing inspiration from Fulton's signature prints.  This is designed to fit in well for the colourful brand that Echo Falls is known for."
Commenting on this partnership Holly says "I am delighted to be collaborating with a fun, young brand Echo Falls.  For me, there are many parallels between wine and fashion; both have a fun, feel-good factor, and a focus on craftsmanship. The designs that I have created for the Echo Falls range take their inspiration from my 2014 Spring/Summer prints, so they should feel fresh, contemporary and on-trend."
Lucy Shannon, Marketing Manager Echo Falls adds "We are so excited to launch the limited edition range in collaboration with Holly Fulton.  We know that our consumers are passionate about fashion, and partnering with such a fun and aspirational British fashion label is certain to delight and excite them."
Wine you can wear?
Digging further, I find that Echo Falls also had a big presence at The Clothes Show last year (with WIWT founder Poppy Disney, fashion icon Caryn Franklin, stylist Karl Willet and MTV's Becca Dudley).  The Clothes Show – isn't that fashiontainment central?
So you get the picture?  What's in the bottle is pretty much irrelevant and it's all about colour, style, design, name dropping and fun.
I'll have a pint of this season's must-have
Well, all this talk of drink and fun makes me want to run down to the pub.   Trouble is, I've got a nothing to wear.  And no idea what ale is on-trend right now.  Ooooh, let me see, shall I have the Dog's Bollocks to go with my dark brown Next T shirt, or the Old Rasputin to match my M&S black jeans?   It'll be such a giggle with the boys at the bar – I can hardly wait!