Helping

businesses get on top of the paperwork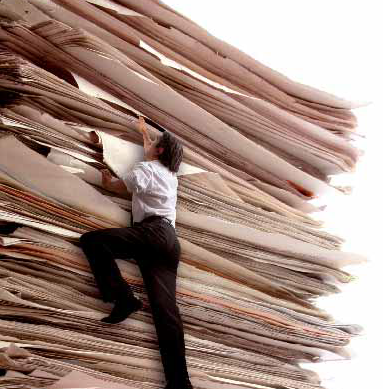 Iron Mountain
Do we have any experience of writing internal communications?  Yes.
Bomb proofing your data
Iron Mountain is a very big and serious business, but with an intriguing name.
The company was started by Herman Knaust, who had made his fortune growing and marketing mushrooms.  In 1936, needing more space, he purchased a depleted iron ore mine and 100 acres of land in Livingston, New York, for $9,000.
By 1950, the mushroom market had shifted and Knaust was looking for alternative uses for his mine, which he had named "Iron Mountain."  The world was in the grip of the Cold War and Knaust saw a business opportunity in protecting corporate information from nuclear attack and other disasters.
He launched the Iron Mountain Atomic Storage Corporation, opening its first underground vaults, and a sales office in the Empire State Building, in 1951.  The first customer was East River Savings Bank, who brought microfilm copies of deposit records and duplicate signature cards in armoured cars for storage in the mountain facility.
All together now
Today Iron Mountain is a leading provider of storage and information management services.  The company partners more than 95% of the Fortune 100 companies and over 85% of the FTSE 100.  It also employs 21,000 staff worldwide and operates more than 1000 facilities.  This means that they have some fairly large employee engagement and communications challenges.
We were asked by creative agency Perfect Storm to provide all the content for Iron Mountain's European-wide employee magazine.  Each month we were given a schedule of the 24 pages with outline details of the stories to be featured, rough word counts and the contact details of people we had to interview.   We then set about calling people all over Europe and putting the articles together.  These included, over several different issues, items such as:
A day in the life of a team leader in Sellafield
A case study of the work Iron Mountain was doing for ING, one of Holland's leading financial institutions
A spotlight on Iron Mountain Spain
Iron Mountain's sustainability initiatives in Aberdeen
A review of the newly launched Iron Mountain Europe Intranet
A roundup of staff fundraising efforts
A review of recent developments in Records Management and Off-Site Data Storage
An insight into Iron Mountain's Active File Solutions product
Team profile of Iron Mountain Romania
Interview with Iron Mountain customer Hewlett Packard
A review of the company's Account Management Assessment Programme
Spotlight on Iron Mountain's key brand values